Press Release
Qolcom achieves Cradlepoint 5G for Enterprise Branch Specialisation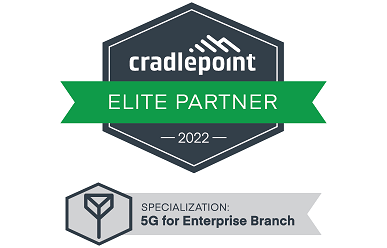 United Kingdom – 16th June 2022 – Qolcom, a specialist Wireless WAN as a Service provider today announced that it has achieved 5G for Enterprise Branch Specialisation from Cradlepoint, the global leader in cloud-delivered LTE and 5G wireless network edge solutions. The 5G for Enterprise Branch Specialisation identifies and recognises partner organisations that are leaders in positioning and selling Cradlepoint's 5G for business solutions by meeting a series of sales, technical, and business proficiency criteria.
By receiving the specialisation, Qolcom will support Cradlepoint's efforts of selling the industry's most comprehensive portfolio of 5G solutions to meet the business imperatives of availability, interoperability, security, and manageability. Qolcom has successfully deployed primary and backup 5G solutions in some of the most challenging environments. Key to Qolcom's success is focusing on ensuring the design and RF survey aspects are right first time, areas in which Qolcom has extensive experience, and which is now enhanced through nCradlepoint NetCloud's single pane of glass management system.
"Qolcom, in partnership with Cradlepoint delivers Wireless WAN as a Service, to provide end-to-end management, oversight, and service ownership of enterprise wireless solutions using Cradlepoint devices. With Enterprise 5G Wireless WAN as a Service delivered by Qolcom, we work with our customers to minimise downtime and maximise reliable connectivity." said Keith Reading, CEO and Founder at Qolcom.
By combining its NetCloud platform with a clean-sheet-of-paper design for its new 5G modems and antenna systems, Cradlepoint is the first to deliver comprehensive 5G solutions for business. Specific capabilities include combining LTE, Gigabit-Class LTE, and 5G in a single wireless WAN; supporting all 5G spectrums, interoperating with existing customer SD-WAN and router infrastructures; and simplifying the entire network management lifecycle.
"Cradlepoint is committed to leading the evolution of Wireless WAN and 5G and is both the first and best choice for customers in this space," said Eric Purcell, senior vice president of global partner sales at Cradlepoint. "Our reseller, service provider, and technology partners play a crucial role in this mission. The addition of Qolcom to our 5G for Enterprise Branch Specialisation program is another important step in leading the path to 5G for business."
For more information on Qolcom's work in the industry, please visit https://qolcomconnect.co.uk/pricing-wwan/. For more on Cradlepoint's 5G for Enterprise Branch Specialization and the Cradlepoint Partner Program, please visit https://cradlepoint.com/partners/for-partners/.
About Qolcom
Founded in 2005, Qolcom is a specialist systems integrator of Digital Workplace Solutions, Intelligent Network Infrastructure and Security. Using market-leading products and early adoption of new technologies, we have met and exceeded our customers' expectations for more than a decade. Our approach is supported by the highest quality of service and a policy of continual service improvement. UK-based with global reach, Qolcom enables your digital ambitions, exploiting emergent technologies, raising productivity, improving user experience and securing your organisation against digital attack. Qolcom delivers services globally as a member of GEMA, a worldwide alliance of managed mobility specialists, local experts with a shared objective to make mobility services simple, consistent and reliable.
About Cradlepoint
Cradlepoint is a global leader in cloud-delivered LTE and 5G wireless network edge solutions for branch, mobile, and IoT networks. Cradlepoint NetCloud, the personification of the company's Elastic Edge vision, is a subscription-based service with purpose-built endpoints that delivers a pervasive, secure, and software-defined Wireless WAN edge to connect people, places, and things over LTE and 5G cellular networks. More than 22,000 businesses and government agencies around the world rely on Cradlepoint to keep critical sites, points of commerce, field forces, vehicles, and IoT devices always connected and protected, including 75% of the world's top retailers, 50% of the Fortune 100, and first responder agencies in 25 of the largest US cities. Major service providers use Cradlepoint solutions as the foundation for innovative managed services. Founded in 2006, Cradlepoint is a privately held company headquartered in Boise, Idaho, with a development center in Silicon Valley and international offices in the UK and Australia.
Qolcom Media Inquiries
PATRICIA NOLAN
Energy Group
patricia.nolan@energygroup.ie
+353-(0)86-853 6865
Cradlepoint Media Inquiries
HOLLY LANGBEIN
Highwire PR
cradlepoint@highwirepr.com
+1 (916) 769-2199